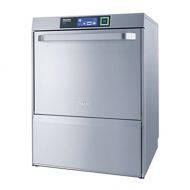 MIELE PG8166 Tank Dishwasher
Miele offer a wide range of appliances which cover all the bases for commercial users. The impressive Miele PG 8166 is ideal for operations which require a fast throughput allied to effective results. A minimum running time of only 55 seconds and the capacity to wash 1188 plates per hour are key features of this excellent dishwasher.
This is a previous model. For the latest designation please check out the Miele PTD 703.